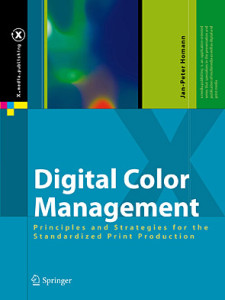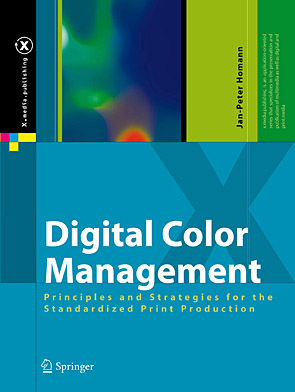 My book "Digital Color Management – Principles and Strategies for the Standardized Print Production" is an updated English translation from the third edition of the German reference book "digital colormanagement."
The book describes color management for print production with a focus on implementing standards for separation, soft proof, contract proof, data delivery and printing.
The basics and strategies are targeted at setting up vendor-independent color management workflows which can easily be implemented using leading applications.
Utilizing a unique graphical concept, I explain how different standards and specifications such as ISO 12647, SWOP, GRACoL, G7, ICC profile format and PDF/X fit together.
I describe the main points for setting up color management and quality control from the perspective of print buyers, photographers, agencies, pre-press and printers. The book has a strong focus on communication between all of these essential players. Based on the best practice in communication it explains the most important steps for quality control for digital data, contract proofs and prints.
The described strategies are the result of 15 years colormanagement projects with some of the leading print buyers, pre-press houses and printers in Germany and Europe. The English edition adapts these strategies also for the US market according to G7, GRACoL and SWOP.
As a reader of this book you can register as a user and ask questions via the comments functions of the website.
Here are some expert comments from the UK and the US:
UK Paul Sherfield from www.missinghorsecons.co.uk
" This excellent book, now available in English for the first time, offers insight and practical advice on all areas of ICC color management.
As well as offering detail on the application of ICC color management to graphic arts workflows, it gives an background to color theory that even the most experienced users in this area will find useful.
The author discusses the weaknesses, as well as the strengths of ICC color management, and is not afraid of stating his own views in this book"
Paul Sherfield who runs The Missing Horse Consultancy is well known in the UK printing and pre-press industry as having considerable knowledge on digital workflows, with a special expertise on the business reasoning behind such systems.
He has installed some of the most successful digital pre-press systems in the UK. For 2 years he worked on a number of medium term projects before starting the consultancy in July 2000. Before this he was a partner in what became one of the leading pre-press/printing companies in London.
He is active in a number of industry groups and is a regular speaker at seminars and conferences.
Apple Solutions Expert-Print & Publishing Member – UK TC130 Technical Advisory Group (ISO 12647 Printing Standards)
Member – BPIF Technical Standards Committee
USA: Steve Smiley, Chair of IDEAlliance Print Properties Committee
"Jan-Peter,
After reading your book, I have found it a very user friendly tool. I believe it can increase the proper user of color management, and process control tools for consistancy in printing globally."
Read the first 4 Chapters online at Google Books
See more at Amazon
At december 2008, some descriptions from the publishing house at Amazon sites are referring to the second edition of the book and are outdated.
Digital Color Management at amazon.com
Digital Color Management at Amazon UK
Digital Color Management at Amazon France
Digital Color Management at Amazon Deutschland